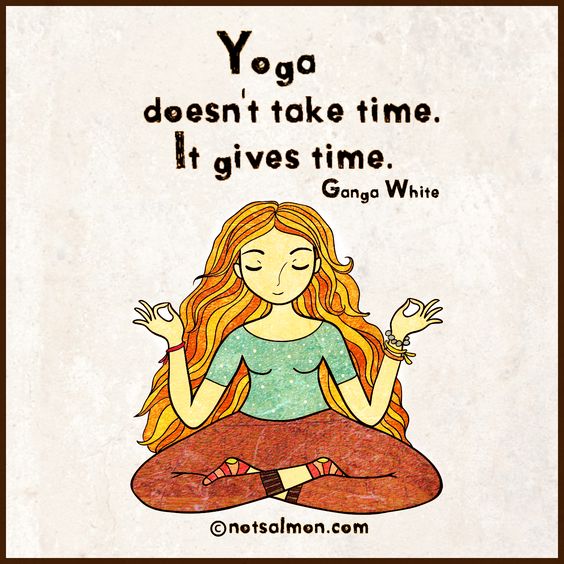 Is it just me or are the days slipping by faster and faster?  Hurricane Irma stole the month of September it seems, and just as I thought I was catching up I realized the holidays were upon us.  A family wedding, a workshop, a couple of holiday parties, some activities for the kids, and the year will come to an end.
Sadly in the busy times it seems the first thing we forfeit is our self-care…healthy meals, exercise, sleep, our yoga practice.  The very things that sustain us are the first things we cut out so that we can get everything else done.  Deck the halls, wrap the presents, attend the programs, I won't be able to practice the rest of this week but I'll try to squeeze a class in this weekend.  Sound familiar?
There's a well-known quote attributed to Ganga White that goes like this "Yoga doesn't take time, it gives time."  Now anyone who has ever tried to work a yoga practice into a busy day knows that it DOES take time to get to class, take the class, and then resume your day.  However, the most amazing thing happens once you've made it to your mat and started to still your physical body – your breath begins to slow down, followed by your heart rate, and then the chatter in your mind, and suddenly it seems as though time itself slows down.  In that moment you have given yourself a most precious gift, awareness of the present moment.  The only place where we truly exist.  Your practice keeps you present, grounded, and if you commit to it, it will fortify you to move with grace and awareness through the busy seasons so you can continue to stay present.
If you don't do anything else for yourself this holiday season, prioritize your practice and get on your mat.  If you can't make it to a class, set up a "class" for yourself and do a home practice.  Wake up an hour earlier if you have to, or graciously decline to coordinate the office holiday party, or do whatever else it is that you need to in order to make time for your yoga.
Yoga lifts you up, and if you are uplifted, others around you will follow if for no other reason that they are drawn upward by your energy.  Spread some peace and joy this holiday season by maintaining a regular and uninterrupted practice.
Namaste and Sat Nam, Yogis.