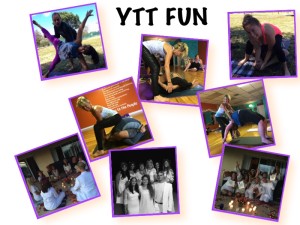 Welcome!  This is the page for the graduates of Key Largo Yoga's Teacher Training for 2014-2015.  We wanted a space to talk about our experiences in the program so that prospective teacher trainees would have a better idea of what to expect.
How our teacher training was structured:
Our YTT was spread over 6 months – meeting for the first weekend of each month from December 2014 through May 2015.  On the YTT weekends, we met on Friday evenings (6-9pm), Saturday 7am-4pm, and Sunday 7am-4pm.  Needless to say, those weekends were jam-packed with yoga!  But they were tons of fun.
How we spent our time in teacher trainings:
Meditation, mantra chanting, pranayama
Asana practice
Asana lab

Anatomic breakdown of poses commonly used in yoga classes
Discussion of cues to help students into poses
Practice with assisting and adjusting students within poses

Thorough discussion of yoga history and principles
Opportunities to practice teaching, assisting, and adjusting (both among our YTT classmates and in actual studio classes after sufficient experience)
Writing/journaling exercises for greater self-knowledge and exploration
What was expected of us outside the teacher training:
Keep up with the readings
Complete homework assignments
Establish a regular yoga practice – at least 5x/week, including at least 2x/week at the studio
Establish a regular meditation and pranayama practice
Students' experiences of YTT 2014/2015:
Katie's take: Yoga teacher training with Kathy Shirley and Key Largo Yoga was a life changing experience. Kathy is an amazing teacher and is always there to support you throughout your training. We covered a wide range of topics like history, anatomy, philosophy, and alignment. We were challenged to deepen our personal practice and  practice self reflection. My favorite aspect of our training was the amount of time we focused on actually teaching yoga! Kathy had us teaching each other right off the bat and it was so beneficial! I had practiced teaching so much that by graduation, I felt really comfortable jumping into the role of teacher and taking on my own class! I am so happy that I took the leap and signed up for her teacher training.
Anjana's take: Kathy wants to use YTT time as efficiently as possible to cover all the material.  Every meeting was very well-planned.  Kathy is a very present and supportive leader for the program, and we all felt comfortable coming to her with any questions or concerns – during actual training weekends or during the time in between.  She truly wants to help you to succeed – to understand the material, to advance your own practice, to facilitate your personal growth, and to feel confident teaching a yoga class (should you choose to do so)!
Chris's take: The Yoga Teacher Training at Key Largo Yoga didn't just enhance my practice, it enhanced my life. Digging deeper into the elements of yoga that are often glossed over helped me understand what I was doing, why I was doing it, and why I wanted to share the joy of yoga with others.
Maria's take: The decision to enroll in Key Largo Yoga's 200hr Teacher Training was definitely the most important decision of my life, and absolutely changed me for the better. The small, intimate class size, the love and support from owner, Kathy Shirley, and the overflowing support from the community truly allowed the journey that we all shared together to be one of the best of my life.
Specifically, the program was packed with information but it was all implemented and executed in a way we could all grasp and absorb. Kathy's dedication to our group is really what drove us forward. Her encouragement to remain dedicated to our own personal practice throughout the program was what I attribute a great deal of my success to. The idea that we can never truly "know it all" and that we are "forever and always a student" really allowed for an open mind, open heart, and a beautiful place to grow as budding yoga teacher and human being.
I chose to use this program to help me through a difficult time in my life, and I know that I would not be where I am today without Kathy and my fellow yogis, friends, and family… You are all in the "all of the above" category now. I have since moved out of Key Largo but I know that I will always have family in the keys, and a home in Key Largo Yoga.
Thank you Kathy and my "Namastashays!"
Love, Light, Peace,
Maria Rose
Pics from YTT 2014/2015