FREE Mala Yoga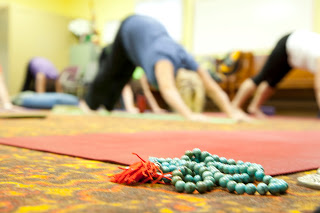 Celebrating Summer…
Thursday June 21st, 1pm
We will be offering a free Mala Yoga practice (108 Sun Salutations) to honor the longest day of the year.
While the change of seasons might not be as pronounced where we live as in some parts of the world, we still celebrate each solstice and equinox and the subtle shifts they bring with a Mala Yoga practice.  June 21st marks the summer solstice – the longest day of the year.
Use this time to take stock of your life and set an intention on how you will best use your energy during the long bright days of summer.
Mala Yoga consists of 108 Sun Salutations and typically takes an hour and a half to an hour and 45 minutes.  It's a challenging practice but you can modify and rest as often as needed.  It's a practice to awaken the and cleanse the body and to reset and refocus the mind on what matters most.
No reservations required, all are welcome and encouraged to join us!
Mala Yoga – the practice of 108 Sun Salutations – represents the singularity, plurality and universal connectedness we all share. 108 Sun Salutations is a challenging practice and students are encouraged to modify or rest as needed.
Practice is free and all are welcome!
Please allow approximately 2 hours for this event.