Key Largo Yoga has teamed up with Florida Bay Outfitters to offer Stand Up Paddleboard Yoga!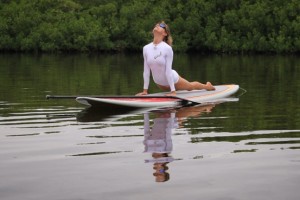 What better way to connect to Mother Nature than by taking your yoga practice out on the beautiful waters of the Florida Bay?  Take in the sights and sounds of nature as you flow through a traditional yoga practice, feel the sun on your skin while you practice sun salutations, and then relax in savasana as you float gently in the bay waters.   We'll only be a few miles from Everglades National Park, and who knows what will swim or fly by while you're in downward facing dog…dolphins, manatees, egrets, tarpon and more may be popping by to say hello!
Classes are only $30 if you have your own board…Florida Bay Outfitters have paddleboards for rent if you need one for $15.  Paddles, anchors, and lifejackets included for the class.
To schedule a class call or text Kat at 305.240.1315.
Classes can be made by appointment, between the hours of 8:30am and 6pm daily, pending availability of an instructor.
SUP yoga is an excellent practice for all levels, and no yoga or paddle experience is necessary.  Our yoga teachers who teach SUP yoga are also trained in both paddleboard technique and safety so that we can offer you this class in a safe and super fun environment.  Our knowledgeable instructors will teach you everything you need to know.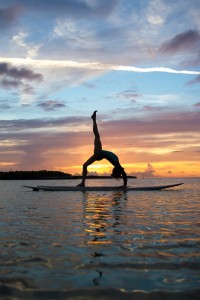 The SUP yoga practice will be lighthearted and fun.  You may get wet but don't worry, the water is warm and shallow.  The experienced yogi will find that SUP yoga offers a whole new set of challenges – practicing on the paddleboard awakens your core muscles and challenges your balance, you might find familiar poses a lot more challenging!
Wet or dry, once the practice is complete, just imagining lying on your paddleboard, anchored and gently floating at sea, deeply communing with the energy of the earth, the sea and yourself.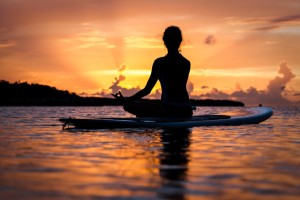 SUP yoga classes are an hour and 15 minutes.  Please plan to arrive 15 minutes beforehand.  We will meet at Florida Bay Outfitters located at 104050 Overseas Hwy Key Largo, FL  33037 and from there we will take a short paddle to a shallow, calm area where we will anchor up for our yoga practice.
Classes are $30.00 (if you have a board) and include life jacket, and anchors. If you do not have a board~no worries~you can rent one on-site at Florida Bay Outfitters upon check in for $15.00 tax included. Please bring cash for board rental.