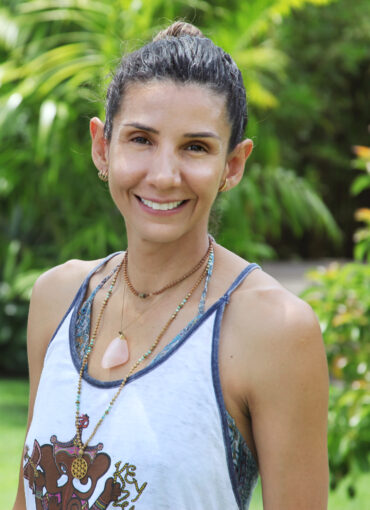 View Classes
Andrea Rojas
Position:
Yoga Teacher, RYT 200
Experience:
Graduated April 2021, KLY
Biography:
I grew up in Bogotá, Colombia. Played volleyball in school, University and the Bogotá team... In 2001, a couple of days after receiving my Batchelor's degree in Fine Arts I came to the US (Sarasota, Fl) expecting to go back to Bogotá after a few months, that turned into 4 years, after which I took a leap of faith and moved to NYC to work on photography. A decade went by before I actually found yoga... or yoga found me... I wasn't really looking, I just got really lucky one day a very dear friend recommended I get a massage from somebody she knew... Nothing I'd done in my life could've prepared me for this experience; a combination of breathing techniques, Kundalini yoga and Marma massage reminded my body what it feels like to have vitality and energy again... that day a seed was planted, and I've been trying to nurture that seed ever since...Perhaps this is why yoga for me is something magical, deeply transformative and infinitely rich... layers and layers of teachings with the power to permeate all aspects of life and enhance it; a practice that is incredibly generous: it has given me even more than I've put in...My first teachers introduced me to Vedic philosophy and literature, mantra meditation, Kirtan, and hatha yoga... after a few months I found Ashtanga yoga and dedicated myself wholeheartedly to this practice, studing with Guy Dunahaye and Eddie Stern. In 2020 when I moved to the keys and found Key Largo Yoga, I reconnected with Vinyasa and feeling a deep connection with the Kathy as a mentor, I decided to do my 200 hour YTT. For the first time, since I began to practice in 2014, I feel ready to share and give back what yoga has so generously given me... I'm honored and humbled for this opportunity to serve.