Solsara & Live Music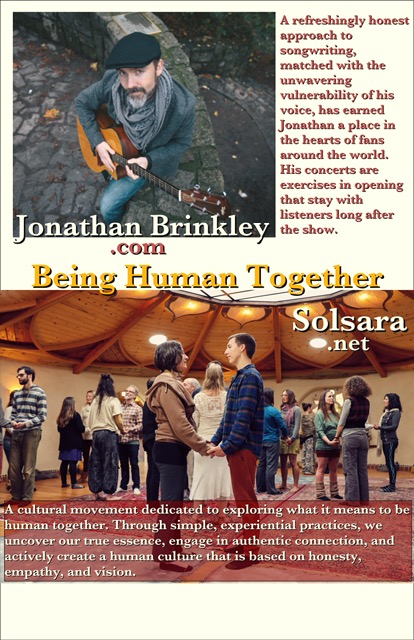 Ready for something a little different?  
Want to feel connected to others in a meaningful way?  
Join us Saturday March 17th, to explore what it means to be human together with Jennifer Love and Jonathan Brinkely in their "Unguarded Heart" tour.  
Their goal is to actively help create a human culture that is based in honesty, empathy and vision. This event is an introduction to Solsara: a practice in opening to whatever moves through us in the moment. Jennifer Love will guide the group through a variety of interactions, encouraging deep listening and reflection of ourselves and one another.
This mainly experiential, whole group activity then transitions into an intimate live musical offering by Jonathan Brinkley. Jonathan's music explores themes of self discovery, growth, motion and regeneration. His practice of vulnerability and truth-telling through song and performance have earned him a place in the hearts of fans around the world. Jonathan and Jennifer have been promoting community and connection together for seven years.
This workshop is for you if you would like to know yourself better, or have deeper more connected relationships in all areas of your life, or simply desire an evening of intention and heart-centered social practice. Bring your curiosity.
4pm-6pm Solsara
6pm Nourishment: Potluck Finger Foods – Students are welcome to contribute but not required to
6-7:30pm Jonathan Brinkley Live Concert
Reservations not required, donations of any amount deeply appreciated.
Feel free to just show up with your whole self!
To learn more:
http://www.jonathanbrinkley.com/music/
https://m.facebook.com/jonathanbrinkleymusic/
https://www.youtube.com/user/Jonathanclear
https://www.solsara.net/
Suggested donation $10-$20