Free Your Mind Retreat
On a beautiful island in Penobscot Bay
Vinalhaven, Maine
---
With Kathy Shirley and Guest Teachers
September 9 – 16, 2017
Vinalhaven, Maine
Freedom is not about the size of your cage or power of your wings or non-attachment to a person or a thing. Freedom is about being so truly,  madly & deeply attached to your own soul that you can't bear – if only for a moment – a life that doesn't honor it.  ~ Andréa Balt
Ready to Free Your Mind?
Take a break from cell phones, computers, Facebook, and the onslaught of social media and join us for a week of unplugged yoga, meditation, laughter, food, and fun as we forge new friendships surrounded by the rugged and spectacular beauty of the Maine coast in our "Free Your Mind" Yoga Retreat.
Join Kathy Shirley, founder of Key Largo Yoga, at her summer home for a yoga retreat unlike any other retreat you've experienced. We will practice yoga asana daily, but we will also focus much of our time on the mind. Through the practice of meditation (dhyana) and self study (svadhyaya) we will embark on an exploration of the mind and discover how certain thought processes create stress, anxiety and unhappiness. As we illuminate and liberate our minds we will discover together how right perception of the world around us can create peace, happiness and joy!
Our process of letting go will start with a daily slow hatha flow practice (Kathy's signature style) that will serve to soften the edges and create new space in the body, heart and mind. Within this new space we will practice breathing techniques (pranayama) and meditation.
We believe that delving into your asana practice with meditation, breath work, essential oils, creative pose variations, joy and indiscriminate curiosity is one pathway to our natural state of bliss and freedom from the citta vrttis (turnings of the mind).
A Thai Yoga experience, nature walks alone or with friends, quiet sunrises, swimming in the quarries, kayaking, hiking, and trips into town are just a few of the many ways you can take time to process your transformation.
Balance is key in all things and to that end we will also balance our work with some amazing play! Get ready for adventure as we hike pristine trials and swim in beautiful freshwater quarries.  We will pick newly ripened berries and apples to make scrumptious desserts. Enjoy delicious fresh food and learn how to create your own healthy juices and smoothies.  Celebrate together with a classic "lobstah bake" at our week's end dock party.
For more information about this beautiful island and all it has to offer, click HERE
Kathy Shirley
Kathy Shirley is the founder, owner and operator of Key Largo Yoga located in Key Largo, Florida. She is married to the LOVE of her life and the proud mother of two grown children and three adorable grand-babies. Kathy is blessed to finally be able to spend her winters in the Florida Keys and her summers in Maine, about an hour away from her birthplace. Kathy has dedicated the last ten years of her life to the study and practice of yoga, and she believes much of her work has culminated in this opportunity to bring a group of like-minded yogis to her beloved island for a week of transformative yoga, both on and off the mat. She will be deeply honored to hold space for you as you cultivate connections with self and others, and discover that you already have everything you need to create peace in your mind and joy in your heart!
What's Included in the Free Your Mind Retreat?
Upon your arrival you'll join us for a Welcome Party with wine, champagne, sparkling water and hors d'oeurves at Kathy's home.
You'll spend seven cozy nights on the island (bring a friend, make a friend, or book a single room). Details about accommodations in the "Venue Information" tab below.
Breakfast and lunch are included.  These meals will consist of light fare and be served at the Harbor House.
We will offer two Yoga Asana Practices each day (aside from arrival and departure dates), a Daily Group Meditation practice, and a  Juicing & Blending Class one afternoon.
On our first full day we will come together for a Mala-Making Workshop.  We will create our own string of beads, bless them as we infuse them with the energy we desire more of, and use them during practices and meditations throughout the week.  Beads, stones and mala supplies are included.  Click HERE to learn more.
Once you're settled in, you will have an opportunity to schedule your personal Thai Yoga Massage.  Laurel Weiss is a licensed massage therapist who is also certified in Thai Yoga Bodywork and we are thrilled to have her accompany us on this retreat so that we can include a Thai Yoga Massage as part of your retreat experience.  Click HERE for more information.
During the week we will make each make a Stone Mandala to serve as a reflection of our experience and our intentions.  Choose colors that express your energy and discover a state of quiet meditation as you concentrate time and effort on this artful design.  Click HERE to see examples of stone mandalas.  Stones, paint and all supplies are included.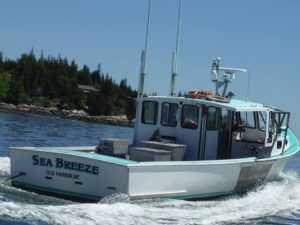 Weather permitting, we will board "The Seabreeze" lobster boat with Captain Bobby Warren for a tour of the island by water.  Our captain will take us for a Day Cruise aboard his working vessel and you will have the opportunity to "haul a trap" and experience first hand the life of a lobsterman. He has a cooker on board and will steam lobsters for us right on the boat! Bobby has been lobstering for over 50 years and has a lot of interesting stories to tell.
It wouldn't be a true Maine adventure without an ALL YOU CAN EAT Maine Lobster bake.  Before the retreat comes to a close, we will attend a dock party and together celebrate our adventures, experiences, connections and transformations over a traditional dock PARTY.
Retreat guests will have also have ample free time without planned activities.  You might enjoy visiting the town one afternoon for lunch, sight-seeing and a little shopping, or taking the afternoon off for a nature hike or a swim in one of three beautiful quarries – one of which is clothing optional!  Naps, star gazing, and a little light reading are also encouraged.  Bring the book you've been wanting to read or the journal you've been wanting to start…this is your time to connect back to the highest and best version of YOU!
PRICING
Single Occupancy $1,995.00
Double Occupancy $1,495.00 Per Person
Click HERE to join us!
~Please Note~    
 Rooms will be assigned in the order they are booked and confirmed. Early booking will ensure your room of choice.                                                                                                                                                                                                                
This retreat will be held on the beautiful island of Vinalhaven, located in Penobscot Bay, Maine. Two separate homes all located in Old Harbor make up our accommodations.  Choose which one speaks to you and best suits your needs.  Remember early booking assures you a better chance of booking your favorite room…
"The Waterfront Perch"
Enjoy dramatic sunsets over Hurricane Sound from this renovated oceanfront home.  Situated high above the water's edge, this three bedroom home sleeps up to six.  Listen to the surf from the master bedroom with its own private deck. Great kitchen, comfortable, lovingly decorated rooms and complete privacy, all just 2+ miles from town. Wonderful walking trails right out front and nearby on the Basin.
"The Seabreeze" 
This cottage is located in the heart of "Old Harbor". This fabulous home overlooks Old Harbor, home to many lobster boats! This three bedroom cottage sleeps up to six. One bedroom has a full bed that is ideal for single occupancy, couples are welcome to book this room as well. If you are an early riser, you'll can enjoy watching the men and women of Old Harbor in the morning hours as they go out to haul.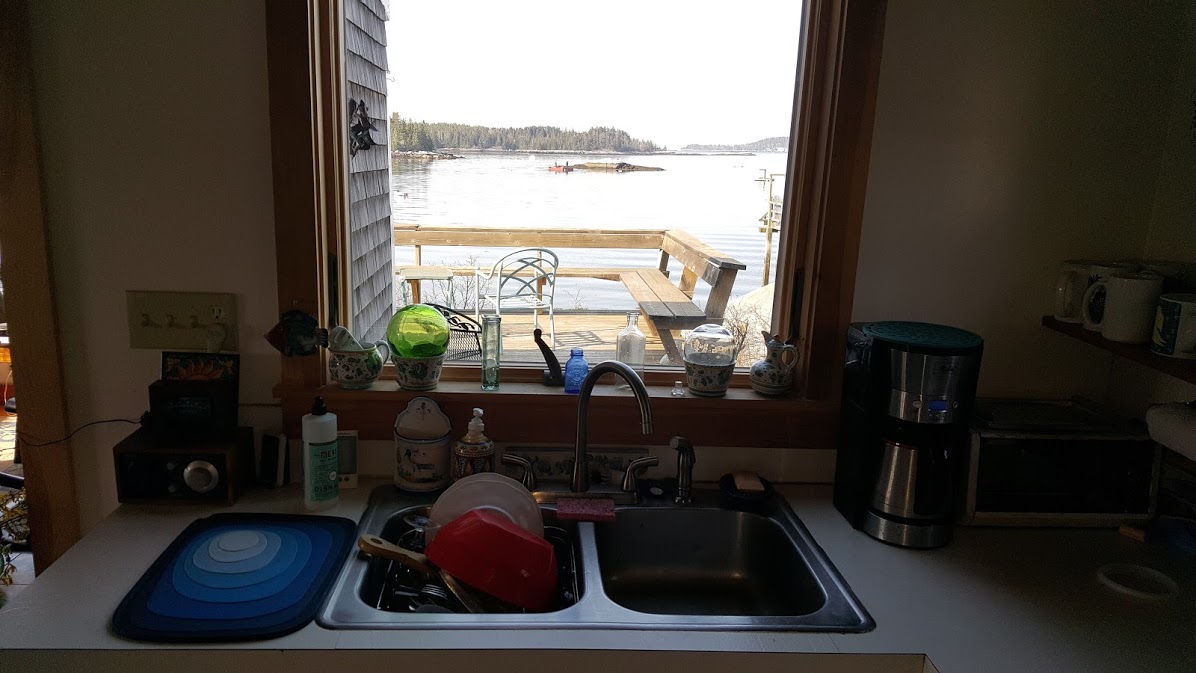 "The Harbor House"
Kathy's home, The Harbor House, is situated in Old Harbor as well. We will gather the first evening at her home for a welcome party. This will be an opportunity to meet and greet, ask questions and to get to know your bunk mates. We will meet here for meals, yoga, and meditation as well as other events throughout the week.  The Harbor House will be open to retreat guests for the entire week, so please make yourself at home here. We have a 6 passenger van that will be availabe for trips to town, and kayaks you are welcome to launch if you're in the mood for a water tour.