New At Key Largo Yoga South!
Studio Owner Kathy Shirley and Yoga Teachers Katie Schweiss and Chris Denault have all completed their Aerial Yoga Training with Kerry Tice, the owner of Circusoul Yoga Studio and creator of the Flying Hammock.  We are super excited to report that our hammocks are installed at the south studio and we're offering several classes in aerial yoga!  Check out our schedule for details and to reserve your space today!
Before attending class: please shower and do not apply any lotions, sunscreens or perfumes as the silk hammocks are expensive and absorb anything on the skin. Also, leave ALL jewelry at home. No jewelry, hair clips etc. can be worn in the hammocks.  Thank you in advance!  Also, if you're prone to motion sickness and you treat it before a trip or boat ride, consider using your intervention of choice before an aerial class – occasionally students find that they feel a little queasy swinging in the hammocks.
Class Schedule:
Mondays 8:30am-9:30am
Thursdays 8:30am – 9:30am
Pricing:
Drop-In for $18
10-pack card $150
Monthly unlimited pass w/aerial yoga $129
What exactly is aerial yoga?  Simply put, its traditional yoga, just in the air!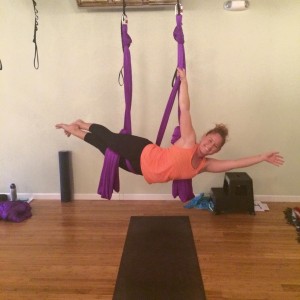 Aerial yoga still focuses on a connection with the breath while being present in the moment. Throughout your practice familiar poses like downward facing dog, warrior, cat/cow and pigeon all make an appearance, just with the added support of a suspended silk hammock.  Aerial yoga is incredibly beneficial to both body and mind.  It challenges your strength and balance, increases your flexibility, and encourages focusing inward.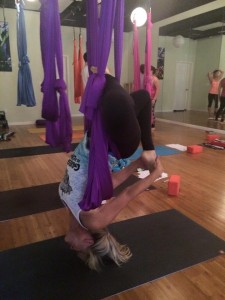 One of the biggest benefits of aerial yoga is its ability to create a safe environment for beginning students to go upside down. Inversions are so beneficial, but are often unavailable to many practitioners. Not in aerial yoga! The silk hammock supports and stabilizes the body and allows even the first time student to invert safely and receive the countless benefits of being upside down! Plus, it's a ton of fun! So don't be fooled by the flips and tricks (although we love those too!), aerial yoga is for all levels!  Beginner and advanced practitioners alike will love the snug hug and gentle rock of the silk hammocks in savasana.