Prayer Vinyasa
                         Special Prayer Vinyasa Class
Join Kat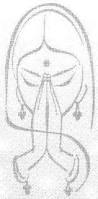 for a monthly guided practice devoted to gratitude and the power of positivity.  Engage in a fluid vinyasa practice infused with moments of devotion and opportunities to feel the interconnectedness between us all.
We'll focus on breath and movement and take time to dedicate each series of vinyasas to different people in our lives, to issues that we might be facing, and of course, to ourselves.
Your dedications will be private and internal – there's no requirement to share anything in this class other than your beautiful light.
Make time to allow and express your gratitude for all that is, was, and will be.
Class is in addition to your Key Largo Yoga Punch Card or Package, however there's no set fee.  Offer what you feel the class is worth, and each month we will donate half of the collection to a local charity.
So far we have donated to a local food pantry in anticipaton of the holidays and the animal shelter. This month we will be donating to the Children's Shelter.
Class will meet the first monday of each month, at 7:30pm.
Namaste… the light in me acknowledges the light in you.