Seated Chair Yoga for Everyone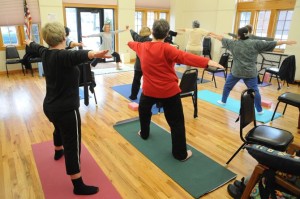 We cater to adults that perhaps might not feel comfortable coming to class with a group of young bendy girls.  Some of our students with limitations such as, arthritis, joint replacements, heart disease, prolonged periods of inactivity, weight concerns, etc. benefit from classes that are specific to meet their needs. 
What? Chair Yoga Class with Kat Wheatley.
This is a gentle class that includes breath work, meditation, visualization, stretching, and some asanas (yoga poses).  Class participants will have the option to use mats or to take a seat in a supportive chair.   Students can remain seated throughout the practice, standing only as often and as long as is appropriate for their current level of strength and experience.  This modified practice will allow for variations of standing poses, sun salutations and balancing poses.
When? Fridays at 2pm, beginning March 28th, 2014
Where? Key Largo Yoga, MM 99
Who? Older students, seniors, anyone who is recovering from a serious injury or chronic illness.  (Medical patients are strongly encouraged to obtain a physician's consent prior to class.)
Why? Improve flexibility, strength and balance.  Deepen and lengthen the breath and improve lung capacity.  Learn techniques to manage pain, stress, anxiety & depression.  Grow a healthy mind-body connection through enhanced body awareness.  Develop an overall sense of wellness, acceptance, and mental clarity.
We offer three types of payment options for our classes.
Students can purchase a monthly membership for 69.00 per month. We also offer a ten class card for 100.00.
If you are not ready to commit, you can drop in and pay cash or check at the studio for 12.00 per visit for locals (with local ID) and 15.00 for visitors. You may also buy packages at the studio with cash or checks. If you would like to purchase membership packages on-line with a credit card please-CLICK HERE
~OUR STUDIO IS HANDICAP ACCESIBLE VIA AN ELEVATOR LOCATED IN THE CENTER OF THE BUILDING~