Teacher Training
                                                  200 Hour Vinyasa Yoga Teacher Training
                                with Kathy Shirley RYT 500, E-RYT 200
Motivated by the Joy learning brings, you will gradually progress from basic to refined levels of understanding until you attain mastery – Patanjali's Yoga Sutras, I-17
 

Lead

Fac

ulty
Kathy Shirley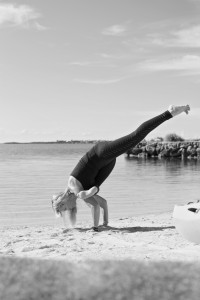 The training is led by Kathy Shirley, owner and founder of Key Largo Yoga. Kathy Shirley (E-RYT 200, RYT 500) completed her 500 hour training in the majestic Himalayan Mountains in Rishikesh, India. She has been teaching yoga for over 8 years and  is an Experienced Registered Yoga Teacher. She was a classroom teacher for many years and has a unique ability to assist students in meeting their full potential based on their individual needs. Kathy first developed a longing for knowledge and self-discovery as a young woman. Searching for spirituality and always coming up empty handed~until her first yoga class. This early seed blossomed into a lifelong passion and now her daily sadhana and dedication to get on her mat has lead her to owning and operating two beautiful studios in the upper Keys. She has the knowledge and spirit to be a truly inspiring teacher. Her classes are taught from the heart and she challenges her students to take their practice as far as they're willing to go. Her approach to yoga is accessible and clear, and she recognizes that the mental and spiritual practice of yoga is integrally important to the physical experience.
Guest Faculty
Dr. Malea Joel
Doc Malea graduated Univ. of Hawaii-Hilo in 2008 with a BA in kinesiology and exercise science. Palmer Florida graduate 2012. She currently practices Holistic Health and lives in Key Largo. She can regularly be seen at the studio right along side our students~authentically living the life she helps others achieve.  She really Loves the island life and healthy local living!
 Kelli Cuppett
Kelli has a deep love for the yoga practice. In December of 2013 she completed her 200 RYT at Key Largo Yoga. Her method of instruction is a reflection of her love and passion for the ancient wisdom of yoga and body science. Kelli has a diverse fitness background and bio-mechanic foundation. She attends workshops and conferences regularly to fulfill her desire to continue learn. She is also certified in Water Aerobics, Pilates, Core Strength.
 

Your yoga journey begins now!
  200 Hour Yoga Alliance Registered  Training Program
 The journey from being a yoga student to becoming a yoga teacher can be a powerful step in the transformation of your practice and life itself.  This YTT will give you the skills necessary that you have found in your teachers to bring you to the place of wanting to pursue your education and practice more deeply. Our program will be a mentally, physically and emotionally challenging, but it will help each student in the process of being able to Walk the talk. It is easy to fool some of the people some of time~however, we will teach you to become a serious practitioner and this will allow you  to become an inspired, amazing yoga teacher. You will practice asana, chanting, meditation, and pranayama, and these practices will begin to unveil the beautiful teacher that you already are. Your knowledge of yoga theory and yogic history will deepen, and with this knowledge you will begin to understand how a daily Sadhana is necessary to become an inspiring yoga teacher. You will learn to teach others while also immersing yourself in deep study, reflection and growth. We invite you to accelerate your practice with other like-minded students to gain fundamental insights by delving into the ancient science of yoga. Tap into the unlimited creativity, energetic principles and aesthetics of Vinyasa Yoga. Although our main focus is Vinyasa, we will bridge the gap between other yoga styles and help you find a voice no matter what style of yoga you practice or want to teach. We will explore over 100 poses and learn the sanskrit name for each, learn how to cue students, practice hands on assists and create a safe and fun setting for your students to grow! Find the voice of the teacher within you, and get ready to inspire others to shine!
The beauty of a Vinyasa Yoga practice is found in the rhythm with which alignment and sequencing merge together to create a balance of breath and movement. Although there is a strong focus on alignment and sequencing, moving with the breath can also be a powerful meditative action. Anchored in the unseen aspects of an asana class, Vinyasa Yoga uniquely accommodates to the evolution of a teacher, allowing new teachers to bring all that they have learned and all that they are into the classroom. The result is a class that is consistent and inspired.
WHY choose Key Largo Yoga instead of the hundreds of other Yoga Teacher Trainings offered? Well, I went to a training that had 42 people in my class. They offered trainings several times per year and I could tell my teacher was burnt out. I definitely did not get personal attention I wanted and did not feel as though my needs were being met. I had questions yet my teacher was unapproachable….I only allow a maximum of 20 participants in a group. Maximum number of students NO MATTER WHAT will only be 20. But what if more want to register~sorry….20 ONLY! This means that you will receive individualized training to suit your needs. I will be here to sit with you directly and answer your questions and guide your practice and your growth. Join us in Key Largo~you are one step away from a new beginning!
I look forward to supporting each of you in your journey to deepen your practice and to find your inner teaching voice as a yoga teacher!
Namasté, Kathy
200 Hour Course Outline:
Comprehensively teach a compelling vinyasa class
Intelligently and safely create your own sequences
Use hands-on adjustments and modifications at the studio
Use observational skills  in "real" classes at the studio
Deepen your practice with unlimited yoga at both studios during your training
See bodies and observe movement
Synchronize breath and movement
Articulate the attributes of each posture
Use Sanskrit names of  yoga postures
Improve & commit to your own practice
Improve your knowledge of the business of teaching yoga
Observe functional and subtle body anatomy
Learn about the history, philosophy, & lineages of yoga
Study across a multitude of yoga disciplines
Learn the ethics of being a yoga teacher
Learn first aid and safety techniques
Practice a yogic diet
Deepen your personal practice, learn to teach yoga in a safe, non~competitive atmosphere, make lifetime connections and have the experience of a lifetime!! 
Right away you will start to teach during your training, but the goal is only to help you internalize what you've learned. It builds tremendous self-confidence. In my personal training we only taught for a total of 1 hour 15 minutes before we were set free to be teachers. I believe teaching is a growing process and finding your own voice takes time. I encourage students to begin teaching each other right away. Many hours spent teaching each other creates a strong foundation to take on a class of your own! Whether or not you choose to share it as a professional is irrelevant. You might share it with friends or family, or volunteer at your church, school or community center. It does not matter if you are determined to be a teacher or hope to simply evolve your own practice — Key Largo Yoga is a good place to land.
The Coaching Relationship
Many teacher trainings today are like a teacher mill where limited time is spent with individual students.  The process of taking in applications and turning out huge groups of mediocre teachers is BIG business. I know this because as a studio owner and practitioner, I have been to many classes with teachers who were not qualified to teach and received trainings that did not follow the guidelines of the Yoga Alliance. My goal is to provide a training that will have you leaving confident, totally in your authentic voice, and ready to teach. I highly value the coaching relationship and believe it is necessary to commit to each and every student to support their personal journey. I look forward to being your teacher for many years to come!
We know you have questions. Click  HERE  for reflections and testimonials from students who completed YTT 2014/2015
Program Dates  2015
October 2nd-October 23rd
The approximate daily schedule:
Monday through Friday:
7:00-7:30am—Meditation
7:30-8:15am—Pranyama-Chanting
8:30-9:45am—Practice
9:45-11:00pm—Breakfast~Training Session
11:00-1:00pm—Lunch
1:00-5:00pm—Lecture-Training Session
5:00-7:00-Choose one evening yoga class to take, assist, or observe 
Saturday & Sunday schedule: 
7:00-7:30am—Meditation
7:30-8:15am—Pranayama-Chanting
8:15-9:45am—Practice teaching
10:00am- Practice 
11-12:00pm~lunch
12:00pm-3:00pm~lecture~training sessions
There will be homework everyday and practicum hours.
* Additional hours will be  required during your training . This will consist of  at home study and service  to the community.
Student Obligations
This 200-hour program is completed over the course of 21 intensive days. Completion of the full program is intended to satisfy the requirements for Yoga Alliance certification at the 200-hour level. The program is open to students who wish to deepen their practice, to those who want to learn to teach yoga, and to teachers who are looking to expand their knowledge and satisfy continuing education requirements.  The full program requires a significant time commitment so please consider your availability before registering.
A minimum of 1 year of consistent yoga practice is recommended.
To meet Yoga Alliance's requirements for a 200-hour Registration, attendance at all sessions is mandatory.
Prior to acceptance into the program, each applicant will be required to complete an application.
All written assignments, exams and projects must be completed to receive certification.
Policies
Attendance at all sessions is mandatory. Credit will not be given for partial attendance. Missed sessions can be made up during the next program session.
A certificate will be issued once all requirements have been met: Successful completion of all courses and all assignments in their entirety, and full payment of tuition.
Investment
Full tuition for the program is $2,775.00  due by September 15th. Early Bird discount $2,595 if paid by July 31st.  CLICK HERE to pay now.
$200 non-refundable deposit upon acceptance to the program.  There will be absolutely no refunds on the deposit, so please be sure you are ready to commit to this training before you send your application and fees.
Payment can be made in three installments: the initial deposit of $200 is paid upon applying. The 2nd deposit of $1400 is due by August 3rd. The remaining balance is due by September 15th. Payment can be made in full at any time prior to the training.
PLEASE NOTE:
• If you are coming from out of town and need lodging we will work together with you to find suitable housing to share with other YTT's close to the studio. We have several options available.
Tuition does not cover the cost of a small number of books that are required reading, but it does include all training sessions, teacher manuals, materials, as well as unlimited drop-in classes at Key Largo Yoga during the training.
Required Books for the 200 Hour Yoga Instructor Training 
       ~ Spiral Bound Key Largo Yoga YTT Manual FREE ~ (delivered the first day of training)
     (all available on www.Amazon.com )
The Key Muscles of Yoga: Scientific Keys, Volume I by Ray Long & Chris Macivor
Yoga: A Yoga Journal Book by Linda Sparrowe (paperback edition)
Yoga: The Spirit and Practice of Moving into Stillness, by Erich Schiffman
The Yoga Handbook by Stephanie Keach
Bhagavad Gita, by Eknath Easwaran
Structural Yoga Therapy by Mukunda Stiles
Inside the Yoga Sutras by Reverend Jaganath Carrerra~ PLEASE READ THIS COPY BEFORE TRAINING BEGINS
Cancellation Policy
Up to seven (7) days prior to the beginning of the training, a full refund will be issued minus the deposit. Within 7 days of training, absolutely no refunds will be issued.
How do I apply?
EASY! Complete and submit your application ( HERE)