Teachers
Kathy Shirley, B.S. Psy, M.A. Edu., E-RYT 200, RYT 500
Owner
"Practice and All is Coming" ~Sri. K. Pattabhi Jois
I began practicing yoga in 1999 but really fell in love with the practice in 2007 with my first Ashtanga class with Sri. K. Pattabhi Jois!  In 2008 I traveled to Costa Rica to complete my 200 hour Vinyasa Teacher Training and am currently registered with the Yoga Alliance. I began teaching classes immediately after completing my 200 hour training and have taught classes consistently since then. My teaching background as a classroom teacher also inspired me to complete a 5 day training followed by a year long intensive study  to gain certification in the renowned YogaKids program to become a certified YogaKids teacher as well.
In 2010 I traveled to Carolina to participate in an eight day intensive study at "Duke University"  teaching yoga to seniors with some of Duke's top Surgeons and Physicians. As part of their Integrative Medicine Unit  we were working hands on with patients and Staff to integrate yoga practices into their after care.  We are still working to bringing yoga to our senior population here in the Keys! It has been challenging but we are not giving up!! Then, in the spring of 2014, I traveled to Rishikesh, India for a 6 week intensive training in Hatha Yoga to complete my 500 YTT. It was such an amazing experience. I am still processing the complete experience and plan to return soon!
I have studied with a variety of Master Teachers during weekend and week long intensives and have  learned so much from them, but my true teacher is my own 5'7′ body when I step on this little rubber mat. Each and every day I discover things about my body and what it is and is not willing to do. I think my ashtanga practice is the most important component of being a good teacher. My daily practice is a reminder of the struggles I face on and off my mat. It challenges my strength, yet it also reveals and exposes all of my weaknesses. It is such a humbling experience every single day. Without my personal practice, I would be just another yoga teacher trying to teach what I do not experience. I tell my YTT students that the most difficult aspect of being a good yoga teacher….is having and committing to your own daily Sadhana practice. Yoga has become a competitive industry and so many teachers today are watching Youtube videos and regurgitating the words of some famous yoga teacher in their classes instead of learning on their own mats. This need to be "great" supersedes our desire to practice and learn at a pace that is realistic. Even in the yoga world…all is not perfect

We all have unconscious patterns that bind us to feelings of fear, unworthiness, anxiety etc. It is hard to just be your authentic self. I am learning to let go of the need to be an "amazing" teacher and honor the teacher within. The classes I teach come from my own experiences on and off my mat. Nothing fancy, no great words of wisdom that I read the night before. I teach straight form my heart…teaching is a gift and as I grow deeper in my practice, I realize that the teacher/student relationship is a powerful tool for learning, sharing and growing.
In addition to my love for yoga, I also have a passion for heath and wellness. For years, many of my students would ask me, "what do you eat? how do you stay so healthy? So, in  2011, I completed a year long intensive study of Holistic Health and Wellness at the Institute of Integrative Nutrition. I felt it necessary to study and immerse myself fully in order to have an understanding of the extreme variety of dietary theories. This intensive study of over 100 different theories and lifestyles was a true learning experience. I am so grateful that I was able to study and learn from so many amazing Doctors and Specialists. Then the work is to find a way to see everyone as an individual and closely work together to have lasting changes. I currently am a member of the American Association of Drugless Practitioners and incorporate Holistic Health Coaching as an added service to our busy studio. I have been actively supporting clients to create a healthy lifestyle that is attainable and sustainable for the past 3 years. Visit our Holistic Health page here for more info.
With that said, my perspective on life is simple. Life is merely a balancing act. When your needs are met you feel a sense of well-being. When your needs are not met, the balancing act continues. One of the most obvious things about aging is that our bodies tend to become stiff. As our bodies tighten, not only are we less comfortable, we actually becomes less efficient and more prone to dis-"ease" and degeneration of the muscles and bones. I am living proof that we can actually bring the suppleness of youth back into our bodies and be more flexible, durable and stronger as we age.
As I have learned to focus my physical and mental energy more effectively, I have become stronger, more flexible and centered. Yoga is a gift….however, you need to open to receive~
Samantha McCoy
"I believe in the good things coming." -Nahko Bear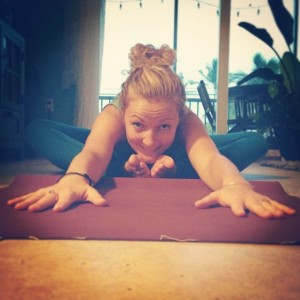 Samantha is Kathy's daughter and also co-owner of Key Largo Yoga. She is a Certified Holistic Heath Coach, 200hr RYT, and a certified commercial pilot and flight instructor. She is also a mommy of 2 young children. She is an advocate for attachment parenting, breastfeeding and natural child birth. She delights in all things organic and natural.
Samantha has used yoga to complete the circle of keeping a healthy body and mind. Yoga has allowed her to conquer postpartum anxiety and provide relief from day to day stressors in everyday life. She truly believes yoga has the ability to heal mind, body, and beyond. She works mostly behind the scenes for Key Largo Yoga and is also currently teaching Restorative Classes.
She believes if we nourish our bodies and minds we can be the absolute best version of ourselves.
Lyndsey Russell Ritz
"… if you dedicate yourself to this practice, it will change not only your body but also your life."
You may know Lyndsey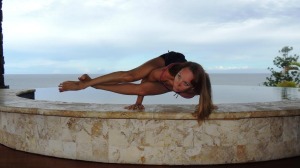 as the founder of Midway café or have seen her taking classes along side you at Key Largo Yoga. She has been a student of both Stacey Lee and Kathy Shirley for the past 3 years. Lyndsey started practicing Ashtanga yoga at the KPJ studio in Islamorada after the studio closed she started to practice at Miami Lifer Center. Lyndsey has just completed her teacher training at Miami Life Center under the guidance of Kino MacGregor one of the worlds leading Ashtanga teachers. It is Lyndsey's belief that if you dedicate yourself to this practice it will change not only your body but also your life. She is very excited to help bring Ashtanga to the Key Largo Yoga studio.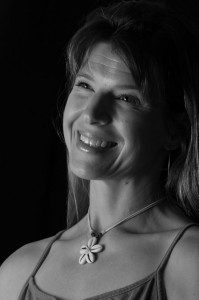 Kat Wheatley
"Lokah Samastah Sukhino Bhavantu"
- may all living beings be happy and free and may our thoughts, words and actions contribute in some way to this freedom and this peace."
Katharine "Kat" Wheatley received her 200-hour yoga instructor certificate through YogaWorks in 2013 and is registered with the Yoga Alliance.  Kat was originally a dancer with the Land of the Sky Civic Ballet Company in Asheville, NC.  She performed and competed throughout the tri-state region for fifteen years and participated in numerous master classes with companies including the Joffrey Ballet, the Bolshoi Ballet, NC School of the Arts, and the Alvin Ailey Dance Troupe.  Kat took her first yoga class in 1998 and eventually realized she was always coming back to the mat when she needed to focus her mind and reconnect with her body.  Kat holds a Master's degree in psychology and worked for several years as a child and family counselor.  Throughout her life Kat has also been a teacher – she tutored in high school and college, taught statistics in graduate school, facilitated parent education classes as a family counselor, taught her toddler basic sign language, and even became a scuba instructor in 2008. Kat now enjoys teaching yoga fundamentals and proper alignment.  She believes yoga is more than a series of poses but rather a way of life and she strives to take the yoga philosophy with her in all that she does.
Laurel Weiss
"Happiness is when what you think, what you say, and what you do are in harmony." – Mahatma Gandhi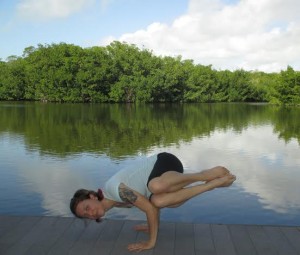 Laurel Weiss teaches Vinyasa flow as well as meditation at Key Largo Yoga. She completed her 200 hour Yoga teacher training under Kathy Shirley and became certified with Yoga Alliance in December 2013. Laurel was first drawn to yoga after her skiing accident many years ago. Through regular practice ever since, yoga has helped her to gain strength, flexibility, balance and live pain free. She is passionate about sharing her love of yoga and meditation with the Key Largo community! Laurel has a bachelors degree in Psychology, is a licensed cosmetologist, artist, musician, vegan chef, scuba diver, world traveler, bicycle enthusiast and eternal optimist!
 Pauline Russell
"A flexible spine is the key to a youthful body.  Yoga can help you achieve this!"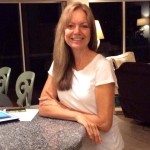 Pauline Russell has practiced primarily Hatha Yoga for over 38 years and has had the opportunity to participate in classes and workshops with some of the leading yoga masters prior to becoming an instructor. Throughout the years she has shared the benefits of yoga with family and friends for fun and is excited to be able to share with new friends as an instructor for Key Largo Yoga now that she she has completed her 200 hour training. Pauline teaches Yin Yoga for Key Largo Yoga and is very enthused about this gentle yet active form of yoga that produces great results for everyone. "Students will leave my class with a feeling of ahhhh, a gentle glow, and a stronger body."
Pauline completed her 200 hour Vinyasa teacher certification through Kathy Shirley  in December, 2013. She achieved a certificate for Yin Yoga 40 hour teacher training with Joe Barnett, senior student of Yin master Paul Grilley in March, 2014. Pauline also received her certificate of training in Restorative Yoga and Yoga Anatomy and Physiology 40 hour training through Roger Cole PhD in September, 2014. In addition to teaching yoga, Pauline is a qualified Holistic Health Coach trained for 90 hours by Hathavidya teachers Will and Susan Duprey in November, 2014.
Pauline is a firm believer that continuing education keeps the mind and body fresh. She looks forward to the many education opportunities in 2015 and is excited to share all she learns with Key Largo Yoga students.
Kelli Cuppett
"Yoga is not about touching the toes; it is about what you learn on the way down" so "life is about the journey, not the destination"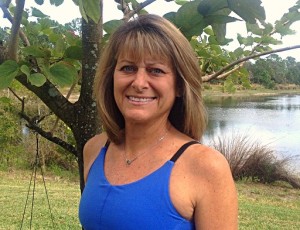 Kelli has been teaching Pilates, Tai Chi and Water Aerobics for over 19 years. She began teaching overseas in Athens, Greece and continued as she lived abroad in Croughton, England; and Tamuning, Guam where she provided instruction to U.S. Naval Hospital, Coast Guard and Air Force personnel and civilians.  In December of 2013 she completed her 200 RYT at Key Largo Yoga. Her method of instruction is a reflection of her love and passion for the ancient wisdom of yoga and body science. Kelli has a diverse fitness background and bio-mechanic foundation.  She attends workshops and conferences regularly to fulfill her desire to continue learn.  She is also certified in Water Aerobics, Pilates, Core Strength.
Leslie Sharman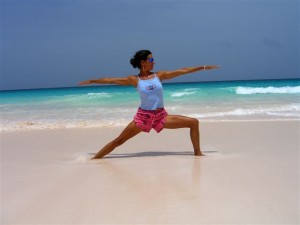 Leslie began practicing yoga in the mid-1980's. Back then her practice was only a few times a week and was a way to relieve stress and help with chronic lower back pain. Today the back pain is gone and her personal practice, together with teaching classes, has made yoga a major part of her life. Leslie teaches a variety of styles of yoga as a substitute teacher at Key Largo Yoga but the central theme running through every class is a commitment to focus the student's attention on the proper alignment of the poses.
After retiring from the practice of law in 2008, Leslie did her teacher training in the B.K.S. Iyengar method with Colleen Gallagher, the senior most Iyengar teacher in Florida. She continues to deepen her study in the Iyengar method each year with classes and workshops with senior Iyengar teachers. Leslie believes that her role as a teacher is to direct the student's awareness to the different aspects of each asana and how that asana engages the various parts of the body. Having a mindful asana practice enables the student to attain the full benefits of a yoga practice…mental, physical and emotional strength, flexibility and balance.
Tracy Robinson
"You get there by realizing you are already there" Eckhart Tolle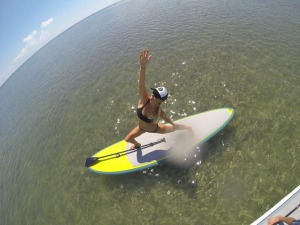 Tracy has been practicing yoga for 7 years. After taking a Hot Yoga class in Virginia Beach one day she decided that she needed to share her love for yoga to the rest of the world. Shortly after she enrolled in teacher training through Yax Yoga Concepts and Yoga Alliance and received her 200hr certification in 2012.
She has a true passion for the therapeutic vision that Hatha Yoga has to offer. Hatha practice allows one to stay true to the fundamentals of yoga while challenging your mind. Yoga is not just the asana, it is also a way of life. She believes our mats provide us a space to connect, be still, and heal so that we can live fully with presence and purpose.
As we are always students, Tracy believes that it is just as important to spend time on her mat as a student to continue on her path as a yogi, as she feels it makes her a stronger more educated instructor. She believes that yoga holds a unique power because everyone can do it, and everyone benefits from it. In the classroom her focus is to strengthen the body, quiet the mind, and surrender into the moment, healing yourself as a whole. Tracy loves being on the water as there is a sense of calming and peacefulness that the ocean holds.
Seychelle Hattingh
"Breathe and Smile"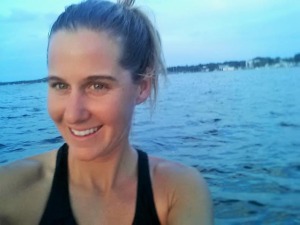 Seychelle Hattingh
Seychelle is a Florida Keys native, born and raised in Tavernier. She began practicing Yoga in 2002 and had studied many styles including Hatha, Vinyasa, Anusara, Yin, and Kundalini from teachers and studios all over the World. Seychelle received her Iyengar-based Yoga Teacher Training certification in 2014 in Cusco, Peru and is a Yoga Alliance 200hr RYT as well as a Reiki practitioner. Her classes are a fusion of the diverse wisdom she has gathered from all her teachers. Each one a unique journey to find energy, balance and bliss.
Seychelle is a Standup Paddle (SUP) instructor and competitive racer. She leads SUP Yoga and fitness classes as well as retreats and workshops. Formerly a professional sailor, Seychelle hold a US Coast Guard 100ton Masters License. Seychelle is passionate about life, health, nutrition, fitness, standup paddle, yoga, sailing, travel, adventure, and being happy.
Leila Dylla
"Set your life on fire and seek those who fan your flames" -Rumi 
Growing up as a competitive gymnast, Leila has a passion for human body mechanics, strength, and movement. After retiring from the sport due to injury, she found yoga as a rehabilitation method for her shoulder and back. After developing her own practice, her passion to understand self love, and the divine started to grow into something much bigger.
After attending her first yoga reatreat in Costa Rica in 2010 she was hooked!
She completed her 200 YTT at the Ayurveda retreat center in Alachua Fl, in the summer of 2011 and is now an Experienced Registered Yoga Teacher through Yoga Alliance.
Leila earned a Bachelors Degree in Applied physiology and kinesiology from the University of Florida in December 2013.
She is a certified Crossfit coach, world traveler, and islander at heart. She enjoys teaching all styles of yoga to a wide range of yogis. From athletes, to summer camp kids, to seniors.. She loves it all!
Laughter, stillness, and inversions are sure to be found within her classes. If you've never done a handstand… Get ready to try!