Workshop with Tymi Howard
Join Us For A Weekend With Tymi Howard!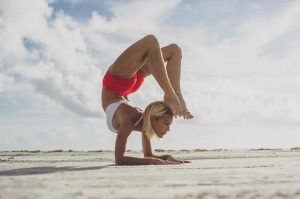 International Yoga Teacher and Owner/Director of Guruv Yoga Studios in Central Florida, Tymi Howard, 500-E-RYT, is a lover of God, Life and Yoga! She's committed to inspiring people to discover their purpose and passion through the art of yoga.
Tymi is a dynamic, non-dogmatic, playful teacher. She is a presenter for Yoga Journal, Bhakti Fest, Wanderlust and more, and acts as an Ambassador for LuLu Lemon & BOGA YOGA Paddleboards, among others.
We have three opportunities to practice and learn with Tymi… all levels are  welcome & encouraged to attend!! All classes will be held at the North Studio.
FRIDAY, May 1st 6:00-8:00pm
"ALL YINNED OUT!"
WHAT IS YIN YOGA? Yin Yoga targets the connective tissues, such as the ligaments, bones, and even the joints of the body that normally are not exercised very much in a more active style of asana practice. Suitable for almost all levels of students, Yin Yoga is a perfect compliment to the dynamic and muscular (yang) styles of yoga that emphasize internal heat, and the lengthening and contracting of our muscles. Yin Yoga generally targets the connective tissues of the hips, pelvis, and lower spine. While initially this style of yoga can seem quite boring, passive, or soft, yin practice can be quite challenging due to the long duration of the poses. We can remain in the postures anywhere from one to twenty minutes! Yin and yang tissues respond quite differently to being exercised. You need to experience this to really know what Yin Yoga is all about. After you have experienced it, even just once, you will realize that you have been doing only half of the asana practice.
Saturday, May 2nd 4:30-6:30pm
"WARRIOR of the HEART"/ Backbending Workshop
Open up to the heart of your practice. Learn how to intelligently and efficiently open the shoulders, chest, heart and hips to experience the power of opening up the front line of the body and Anahata Chakra. As our hearts open they literally become "unstruck" and we are able to experience the flow and grace of life as pure bliss. This vinyasa based practice will include a flowing standing sequence, quad/ psoas release and then move into shoulder and heart openers. A loving and joyful prayer of flowing grace.
Sunday, May 3rd 4:30-6:30pm
Hot, Hip and HOLY! / FUL OUT Vinyasa Flow Practice
This challenging and creatively sequenced specialty class is for the yogi who desires more than what the standard yoga class offers. Burn away all the obstacles that clutter the mind and fog the mirror of the soul. Wring out the toxic emotions that build up and stagnate within the body. It has been our direct experience that an intense asana practice and deep stretching/opening poses will bring about these changes. Practitioner should have a good working knowledge of backbends,headstands and inversions.
This workshop qualifies towards 2 hours of Yoga Alliance 200 RYT, 500 RYT or Continuing Education Credits.
PRICING
Early Bird pricing is $25.00 per class or $65.00 for all THREE until April 15th!
After April 15th pricing is $35.00 per session or $95.00 for all three.
Learn more about Tymi at www.guruvyoga.com or www.tymihoward.com
 Click Here To Register