Class Descriptions

~Have you always wanted to take a Yoga Class?
~Are you interested in becoming more in tune with your body, mind and spirit?
~Do you have reservations about how to begin a yoga practice?
Well, we have a variety of classes to help you ease into yoga!!
To help you understand our guidelines:
Temperature:
Comfortable meaning the air conditioning will be on or there will be some air flow at all times.
Warm meaning the air will be on in the beginning and then we'll allow the room and your body to start to warm up; we may turn the air back on during the course of the class.
Very Warm means that the air will be off and the room and you body will be very heated by the end of the class.
Level:
All levels students are welcome to attend any class, but to give you an idea of what to expect…
Beginner – these classes are great if you're just starting out, they will be slower and there will be lots of explanation but you'll still work and stretch your body.
Some Experience – any level student welcome…you might find it easier to follow along in these classes if you've had some experience with yoga – even if it's just a class or two.
Experienced – these are faster-paced classes and some experience is suggested.
Advanced – these are our most challenging classes – students are still encouraged to honor their bodies and to rest or modify as needed.
Class Description – Find the Right Class for You!!
If you're looking for something on the softer side, or new to yoga, consider one of these classes…
Gentle Candlelight Yoga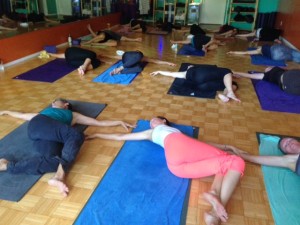 End your day with the tranquility of our gentle candlelight yoga class. Make a mind-body connection that will aid you as you work to improve your body's flexibility and strength. The focus of this class is to gently explore what your body can do and then honor those accomplishments without judgment.  Mostly seated poses, lots of stretching, with some meditation and/or pranayama (breath work) as well.  A perfect way to find relaxation at the end of a long day or to rejuvenate your spirt any time.  All levels are welcomed and encouraged.  No experience needed. Attend this class over time and you'll be pleasantly surprised how quickly your flexibility and strength and increases as does your ability to quieten your mind and find your inner peace.
Temperature: Comfortable
Level: Beginner
 Yoga Essentials
This class is for anyone who wants to learn or review the basics of yoga – proper alignment in poses, safe transitions between poses, how to create a strong foundation upon which to build poses, and simple pranayama techniques (breath control). Perfect for beginners, anyone still new to yoga, or even the experienced yogi who would like to refresh their understanding of proper alignment. Strength and flexibility will come with practice – neither are a prerequisite for this class. Come fall in love with yoga for the first time, or all over again.
Temperature: Warm
Level: Beginner
Ageless Yoga
Ageless Yoga is open to everyone, but is specifically geared for students whose mobility, balance, flexibility, and strength limitations require a more careful class. The pace is slower and more props are used to establish stability and access to the poses. Regular practice of Ageless Yoga is guaranteed to improve health, flexibility, strength, and balance.
Temperature: Comfortable
Level: Beginner
Yin Yoga
Yin Yoga has the same goals and objectives as any other school of yoga; however, it directs the stimulation normally created in the asana portion of the practice deeper than the superficial or muscular tissues. Yin Yoga targets the connective tissues, such as the ligaments, bones, and even the joints of the body that normally are not exercised very much in a more active style of asana practice.
Suitable for almost all levels of students, Yin Yoga is a perfect complement to the dynamic and muscular styles of yoga that emphasize internal heat, and the lengthening and contracting of our muscles. Yin Yoga generally targets the connective tissues of the hips, pelvis, and lower spine.
While initially this style of yoga can seem quite boring, passive, or soft, yin practice can be quite challenging due to the long duration of the poses. We can remain in the postures anywhere from one to twenty minutes! Yin and yang tissues respond quite differently to being exercised. You need to experience this to really know what Yin Yoga is all about.
Temperature: Comfortable
Level: Beginner to Some Experience
If you're ready to take it to the next level, consider one of these classes, or treat yourself to some chakra healing and meditation…
Gentle Yang/Yin Fusion
The two main aspects of an intelligent yoga practice are steadiness and ease. This gentle class begins with a slow flow practice and ends with healing restorative Yin postures. This class will help release energetic blockages, and restore balance and harmony in your body and mind. Hands on Healing assists will be a "special" part of this class.

Temperature: Comfortable
Level: Beginner
Hatha Yoga
Hatha Yoga is the traditional style of yoga which combines various yoga postures with breathing techniques, and is followed by a short relaxation. Learn to harmonize and balance your body and mind in this energizing, yet peaceful class.
Benefits:
Enhance flexibility
Improve strength and balance
Calm the mind and increase energy
Reduce stress and tensions
Classes are supportive and tailored to meet the needs and abilities of each individual
Temperature: Warm
Level: Some Experience
Hatha Flow
Our Hatha flow class connects traditional Hatha yoga poses into a continuous, creative and flowing practice.  We encourage students to connect their breath to each movement as they flow from pose to pose.  Standing and seated postures will be explored to build strength and flexibility.  This is an excellent class for students who are starting to make the transition  from a traditional hatha practice to one of our more rigorous vinyasa classes.  All levels are welcome!  Beginners are encouraged to come.  Modifications will be offer to help students find their personal expression of each pose.  Level 1-2 poses.
Temperature: Warm
Level: Some Experience to Experienced
And if you're ready to get your flow on, we have several Vinyasa classes for you to choose from…
Vinyasa Level 1
The word Vinyasa means the connection of breath to movement. Thus in Vinyasa yoga all movements are synchronized with the breath, creating a practice that is both dynamic and flowing.  This is an evenly-paced class, combining vinyasa flow with a variety of basic yoga postures to build strength, stamina, balance, and flexibility. This class is designed for all students, modifications will be offered for poses and for transitions to make them accessible to everyone, and frequent alignment cues will accompany each pose.  Some vinyasa experience is suggested but not required.
Temperature: Warm to Very Warm
Level: Some Experience to Experienced
Vinyasa Flow Level 1-3
The word Vinyasa means the connection of breath to movement. Thus in Vinyasa yoga all movements are synchronized with the breath, creating a practice that is both dynamic and flowing. The asanas, or postures, are derived from the Ashtanga system. The difference between the two styles is that in Ashtanga yoga one performs the same asanas in the same sequence every time, while in Vinyasa yoga one has more freedom to improvise sequences of asanas.  This is a moderate- to fast-paced class combining vinyasa flow with high intensity movement and music, and will provide you with a rigorous practice if you chose to find the fullest expression of each pose.  Perfect for men and women seeking a challenging and invigorating workout, excellent cross training for strength, endurance and flexibility. This is an ALL levels class so students will often be offered the opportunity to stay in a modified version of the pose and to work where they are. There will always be modifications offered as well as more advanced poses.  PLEASE feel free to attend and just listen to your body!
Temperature: Very Warm
Level: Experienced to Advanced
Power Hour
A fast paced Vinyasa class combining power yoga flow with a high intensity movement. Perfect for men and women seeking a challenging and invigorating ​class, excellent cross training for strength, endurance and flexibility.
Temperature: Very Warm
Level: Experienced to Advanced
Open Level Vinyasa
An evening Vinyasa class open to all levels.  This class is structured to your ability, and the ability of the class as a whole. Basic poses with more advanced options are offered as well as sequences that start slow and build to become more challenging.  You can push the limits of your body while having fun. Because of the open structure of this class students are often asked if there are any poses, transitions or specific parts of the body they'd like to target during the practice.  There will be opportunities to break down some of those trickier poses you've always wanted to try or perhaps a few minutes for any inversion of your choice.   Come willing to try something new!   Some Vinyasa experience is suggested.
Temperature: Warm to Very Warm
Level:  Some Experience to Advanced
Slow Flow
Laurel's Slow Vinyasa Flow Class incorporates gentle sequencing at just the right pace to center and prepare you for the day. It will challenge your body in a variety of ways while you practice familiar postures. Breathing techniques and mindfulness are taught in basic sequences; perfect for releasing tension and creating overall well being. Although this class has a slow pace, your body will be challenged with balance, strength, and concentration. The class always ends with a few long resting poses, insuring peacefulness and a great start to your Sunday. This class is recommended for anyone wanting a methodically-paced class that still emphasizes the connections between breath and movement and for those new to flow-style (Vinyasa) yoga.
Temperature: Comfortable to Warm
Level: Beginner to Some Experience
Fun Flow
Check out our  upbeat "Fun Flow" class!  Start (or end) your week right by taking some time to get out of your head and onto your mat.   We'll ease into practice with a little breath work or meditation, and then turn up the music and work up a sweat.  Sequences will include a general warmup, a little core work, a little balance work, and a challenging fun pose or two before a solid ten minute Savasana.  Leave your ego at the door and just enjoy the energy…try out something new or maybe just take a few extra breaths in Down Dog, but either way make it your time and your practice.  Primarily Level 2 flow, some vinyasa experience suggested but not required.
Temperature: Warm
Level: Some Experience to Experienced
Want to think outside the box?  Add a little lift to your yoga with Aerial Yoga or get out on the water with Stand Up Paddleboard Yoga!
Aerial Yoga
What exactly is aerial yoga?  Simply put, its traditional yoga, just in the air! Aerial yoga still focuses on a connection with the breath while being present in the moment. Throughout your practice familiar poses like downward facing dog, warrior, cat/cow and pigeon all make an appearance, just with the added support of a suspended silk hammock. Aerial yoga is incredibly beneficial to both body and mind.  It challenges your strength and balance, increases your flexibility, and encourages focusing inward. One of the biggest benefits of aerial yoga is its ability to create a safe environment for beginning students to go upside down. Inversions are so beneficial, but are often unavailable to many practitioners. Not in aerial yoga! The silk hammock supports and stabilizes the body and allows even the first time student to invert safely and receive the countless benefits of being upside down! Plus, it's a ton of fun! So don't be fooled by the flips and tricks (although we love those too!), aerial yoga is for all levels! Beginner and advanced practitioners alike will love the snug hug and gentle rock of the silk hammocks in savasana.
SUP Yoga
Key Largo Yoga is teaming up with Florida Bay Outfitters to offer stand up paddleboard yoga!
What better way to connect to Mother Nature than by taking your yoga practice out on the beautiful waters of the Florida Bay?  Boards will be included but you can bring your own, and no paddle board experience is necessary. The SUP Yoga practice will be lighthearted and fun, and you may get wet but don't worry the water is warm and shallow. Imagine savasana on a paddleboard, anchored and gently floating at sea, deeply communing with the energy of the earth, the sea and yourself.Our yoga teachers who teach SUP Yoga are also trained in both paddleboard technique and safety so that we can offer you this class in a safe and super fun environment.  We will provide boards, paddles, life jackets, and anchors.
Class meets at Florida Bay Outfitters.
 We're looking forward to seeing you on the mat!
Namaste.