Class Descriptions

~Have you always wanted to take a  Yoga Class?
~Are you interested in becoming more in tune with your body, mind and spirit?
~Do you have reservations about how to begin a yoga practice?
Well, we have a variety of classes to help you ease into yoga!!
Candle Light Yoga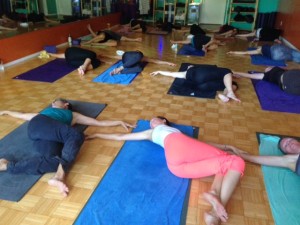 End your day with the tranquility of our candlelight yoga class. Make a mind body connection that will aid in your body's flexibility and strength. The focus of this class is to learn what the body can do and honor its accomplishments. A perfect way to find relaxation at the end of a long day or to rejuvenate your spirt. All levels are welcomed and encouraged. No experience needed. You will be surprised how quickly your flexibility and strength increases in the six weeks.
Yoga Fundamentals classes
Yoga Fundamentals – establish a strong foundation for your yoga practice by learning detailed alignment points within each pose.  We'll discuss how to enter and exit poses safely and learn how to utilize props and modifications to work poses longer and deeper without risk of injury.   Each class will include a warmup that prepares the body for one or more peak poses, a gentle cool down and a long, restful savasana.  Unite movement and breath as you get grounded in your practice;  connect mind and body as you breathe new life into your poses.  Appropriate for beginners as well as more experienced students…get back to basics and grow your foundation strong!
Hatha Yoga
Hatha Yoga is the traditional style of yoga which combines various yoga postures with breathing techniques, and is followed by a short relaxation. Learn to harmonize and balance your body and mind in this energizing, yet peaceful class.
Benefits:
Enhance flexibility
Improve strength and balance
Calm the mind and increase energy
Reduce stress and tensions
Classes are supportive and tailored to meet the needs and abilities of each individual
 Slow Flow
Laurel's Easy Vinyasa Flow Class incorporates gentle sequencing at just the right pace to center and prepare you for the day. This practice will challenge your body in a variety of ways creating strength and balance while practicing familiar postures. Breathing techniques will also be introduced, perfect for releasing tension and creating overall well being.
This class is recommended for those new to Flow-style yoga or anyone wanting a methodically paced; "easier" class that still emphasizes the connections between breath and movement. Principles of proper physical and energetic alignment, breathing and mindfulness are taught in basic sequences. In the Easy Flow classes you will build a foundation to support you in the  Vinyasa Flow Level 1/2 classes should you choose to try those.
Fun Flow
Check out our  Friday afternoon "Fun Flow" class with Kat.  End your week right by taking some time to get out of your head and onto your mat.   We'll turn up the music and work up a sweat before the weekend arrives.  Sequences will include a general warmup, a little core work, a little balance work, and a challenging fun pose or two before a solid ten minute Savasana.  Leave your ego at the door and just enjoy the energy…try out something new or maybe just take a few extra breaths in Down Dog, but either way make it your time and your practice.  Primarily Level II flow, some vinyasa experience suggested but not required.
Vinyasa Level 1
The word Vinyasa means the connection of breath to movement. Thus in Vinyasa yoga all movements are synchronized with the breath, creating a practice that is both dynamic and flowing. A moderately paced class, combining vinyasa flow with a variety of postures to build strength, stamina, balance, and flexibility. This class is designed for all students. Modifications are provided to make this class accessible to all.
Temperature: Warm
Vinyasa Flow Level 1/3
The word Vinyasa means the connection of breath to movement. Thus in Vinyasa yoga all movements are synchronized with the breath, creating a practice that is both dynamic and flowing. The asanas, or postures, are derived from the Ashtanga system. The difference between the two styles is that in Ashtanga yoga one performs the same asanas in the same sequence every time, while in Vinyasa yoga one has more freedom to improvise sequences of asanas. A moderately paced class, combining vinyasa flow with high intensity movement and music. Perfect for men and women seeking a challenging and invigorating workout, excellent cross training for strength, endurance and flexibility. This is an ALL levels class. There will always be modifications offered as well as more advanced poses. PLEASE feel free to attend and listen to your body!
Temperature: Warm
Instructional Vinyasa level 1/3
In this class we will work with our breath to build sequences, strength building postures, and break down the more challenging transitions in the vinyasa practice. Previous vinyasa practice is recommended. Prepare to sweat and get out of your comfort zone.
Temperature: Warm

Ashtanga half primary
Based in traditional Ashtanga yoga this class emphasizes technique, tradition, alignment, and inspiration. You will learn yoga postures in a flowing sequence of movement and experience new potentials of strength and flexibility. This class also develops a relationship of meditative awareness between the body and the mind to help you experience a deeper level of yourself.
Temperature: Warm
Ashtanga Mysore
Are you ready for a new, fun and exciting challenge? Join an amazing melting pot of yoga practitioners and taste the inspirational energy of practicing in the traditional method. "Mysore" is named after the city in South India. Here you build a relationship with a highly qualified teacher and receive the honor of partaking in the ancient tradition of Ashtanga Yoga as it has been taught in India for centuries and is still taught today. All levels welcome. No prior experience necessary.
These classes are taught only by highly trained teachers who are dedicated to the study and practice of the ancient tradition of Ashtanga Yoga as taught by Sri K. Pattabhi Jois in India. Not your average yoga class.
Temperature: Warm
Beginner Classes
~Are you interested in Yoga?
~Do you want to enhance your energy, spirit and well-being?
~Are you uncertain where to begin?
Then our Beginner class is for you!
Our Beginner Basics Class will have you practicing yoga postures right away. This class is offered by our highly qualified instructors and will give you a thorough, fun, and down to earth introduction to yoga. In the Beginner Class you will learn everything you need to know to feel comfortable to attend yoga classes and learn foundational knowledge about yoga. We welcome you to this nurturing and inspirational beginning of your yoga journey.
Morning Blend
A peaceful, morning yoga class designed for all levels. Gently awaken the entire body, calm the mind, and open your heart. No experience necessary yet suitable for seasoned yogis as well. Move as softly or as deeply into and out of poses as you choose with guidance and support. Use the breath to release tension and increase flexibility in the body. We will explore themes of balance, gratitude, and surrender, leaving class feeling relaxed and energized for a beautiful new day.
Yin Yoga
Yin Yoga has the same goals and objectives as any other school of yoga; however, it directs the stimulation normally created in the asana portion of the practice deeper than the superficial or muscular tissues. Yin Yoga targets the connective tissues, such as the ligaments, bones, and even the joints of the body that normally are not exercised very much in a more active style of asana practice.
Suitable for almost all levels of students, Yin Yoga is a perfect complement to the dynamic and muscular styles of yoga that emphasize internal heat, and the lengthening and contracting of our muscles. Yin Yoga generally targets the connective tissues of the hips, pelvis, and lower spine.
While initially this style of yoga can seem quite boring, passive, or soft, yin practice can be quite challenging due to the long duration of the poses. We can remain in the postures anywhere from one to twenty minutes! Yin and yang tissues respond quite differently to being exercised. You need to experience this to really know what Yin Yoga is all about.
Restorative Yoga
This class really is for everyone. Come let go with this extremely relaxing class that is all about self care. This is for beginners up to the most advanced yogi. You will melt into mental repose with the use of props. Ease pose is held for 5-7 minutes to receive all the available benefits and to allow for total tranquility.
Chakra Healing Yoga and Meditation
This practice will revolve around a weekly chakra and the psychology of yoga. Each week we will move through one of the 7 chakras with a guided meditation and a asana practice that directly relates to our physical bodies, emotional health, and our ability to create our true "self" in the world. This is an ALL levels class.